Events
SEE DETAILS OF ALL EVENTS UNDER 'SERVICES' – Workshops and Seminars
*  VISION 2015 – SUNDAY FEB 8, 2015
If you would love to get really clear about what you desire for 2015 Join me for a dynamic, creative day of Visioning and Claiming your Heart. For more details click on the link below:
http://soulhappy.com.au/vision-2015/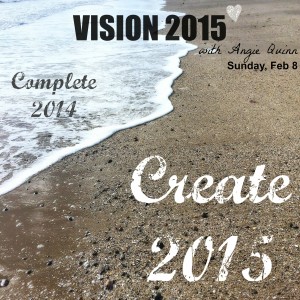 Join me – ANGIE QUINN 
   Intuitive Coach
   and
   Energetic Bodywork Practitioner
This is a 'soul filled' day where you will:
• Bring 2014 to completion
• Gain clarity on your best year yet 2015
• Discover the power of words and learn to ask  powerful questions that are in alignment with your core desires & truth
• Learn about "The Art of Manifestation", Intentions v Goals and the Obstacles holding you back from Receiving
If you would love to gather informally with a group of motivated people in a stunning tropical environment and step into your power to claim what is rightfully yours in 2015 I would love you to join me at:
• WHERE: CAIRNS Venue – TBA on Registration
• WHEN: SUNDAY, FEB 8, 2015
• INVESTMENT: $185.00….. EARLY BIRD OFFER – Sunday, Feb 1 – $170.00
• START: 9.30am
• FINISH: 5.00pm
• BYO: LUNCH
• FREE: Morning and Afternoon Tea (GF available)
ENQUIRIES:
MAIL: angie@soulhappy.com.au
MOB: 0404 058 324
WEB: www.soulhappy.com.au
THE AUTHENTIC WOMAN WORKSHOPS
* THE AUTHENTIC WOMAN – MODULE ONE
"Embracing Your Divine Feminine Essence" through understanding your Feminine and Masculine Energies within.
PLUS +
Learning 6 "Womb Space' practices to support you living from your Feminine Essence
*  THE AUTHENTIC WOMAN – MODULE TWO
"The Art of Self-Loving"
What is Self-Love and how to cultivate it from within
PLUS +
Learn 6 Embodiment practices (different from Mod.1) to support your new ways of Self-loving.
*  THE AUTHENTIC WOMAN – MODULE THREE
"Intuition and Authenticity"
What is Intuition and What does being authentic mean to me
PLUS +
Learn 6 Embodiment practices to support your Intuitive skills and living more Authentically.
NB: These 3 Modules are the complete course and can only be attended in Order beginning at Module One. It is not compulsory to attend every workshop. What you learn in Module One will be of enormous benefit to you without having to feel as though you have to sign up for all of the workshops. We welcome you to consider all three due to the significant changes and learnings you will experience from your commitment to YOU.